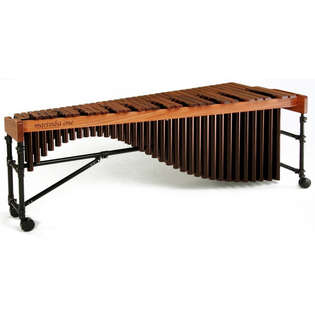 Steve Weiss Music is excited to announce that we recently added Marimba One Marimbas to our selection of concert percussion instruments.  Three five-octave models ranging from $11,500 to $14,550 are available, in addition to our new Marimba One Custom Marimba Builder which offers a choice in frame type, range, optional bar upgrades and more.  All of our exclusive Marimba One models feature an aged-copper resonator color that can not be purchased anywhere else.
Marimba One was founded by Ron Samuels in Arcata, CA in the early 1980's.  He spent his next years acquiring the woodcraft and design skills that would enable him to make a world class instrument.  All Marimba One marimbas are handcrafted in the USA and feature an industry leading warranty.  Marimba One marimbas are used all over the world, played in prestigious colleges and universities, professional orchestras and high schools, and by classical and modern soloists and ensembles.
SW-4001: 4000 Series Frame, Traditional Keyboard, Classic Resonators $11,500
SW-4002:  4000 Series Frame, Traditional Keyboard, Basso Bravo Resonators $12,700
SW-4003:  4000 Series Frame, Enhanced Keyboard, Basso Bravo Resonators $14,550
Base models will be in stock for immediate shipment, while a custom marimba will be available in 4-6 weeks.